There is a saying, "if opportunity doesn't knock, build a door". This is a saying that stands true for the growth story behind any business. But, every business is different from one another.
Irrespective of industry, a business may be of three types:
D2C, i.e. direct to consumer,
B2C, i.e. business to consumer
B2B2C, i.e. business to business to consumer.
In this topic, we will be covering a detailed view of d2c marketing. As we can all see, d2c services are becoming predominant these days owing to the "go local" or "vocal for local" moto.
What is the D2C model or D2C marketing?
D2C model! Sounding very new to the ear? It isn't. The d2c model, or the direct-to-consumer model as the name goes, omits the third party, the reseller. Services take place between the manufacturer and the end customers. Though this kind of business has always been there, it has become the most important in the recent past. Credit goes to B2B eCommerce platforms like Shopify, Magneto, One Cart, and so on.
It is quite right to say then that importance of d2c and b2b commerce platforms go hand in hand.
What are B2B marketing/eCommerce platforms?
Let us say that these are software that lets you build your online store and sell products via the site.
You can always use custom solutions for building your online stores, but then why Shopify?
These platforms offer ease of integration, are appealing to the eye, and are secure. These platforms are also dependable and have a reliable infrastructure.
D2C or traditional retailer business?
One-third of the customers have bought from the website of the brands in the last year. This resulted in an approximate 78% rise in the eCommerce marketing budget of the d2c brands. For traditional retailers it was 60%, says a recent statistics of 2021.
What is the retailer business model?
Those in the retailer business model are not manufacturers. They buy products from those in the wholesale business model. Then they sell the inventory to the public without any mediating body.
Those in the retail business often use a brick-and-mortar location for points of sale. Examples of retailers include grocery stores, clothing stores, and department stores. It could be a nationwide chain or business or an independent shop operated by a single entity. A physical location for a retailer is common but not mandatory. Retailers may choose to offer sales as an online retailer. One can be in an online retail business too. Be it alone, or in a combination with selling from a physical location. Challenge prevails. There are other retailers selling similar products.
D2C brands belong to which industries?
77% of the brands include 'apparel and accessories,
19% belong to the 'beauty and cosmetics' section,
4% belong to the 'jewelry and luxury goods' segment.
Bewakoof:
Launched on April 1, 2012, the brand aimed to sell quirky merchandise at affordable rates. Marketing through Facebook campaigns, email marketing SMS, or trolls, it worked for them.
Not to forget the customer-first approach of COD and return options with freebies. Bewakoof managed to earn a revenue of $28.33 million in FY20.
Rage Coffee:
The Delhi-based coffee brand by Bharat Sethi managed to grow 5X this pandemic. He had the idea clear of what product he wanted, and why he wanted it. Sethi noticed that tea lovers were being replaced by coffee lovers. But the innovation in coffee was lacking. For this, he was sure of taking a data-driven approach. He researched and came to the conclusion that the coffee would have to be convenient to buy and easy to prepare. Their growth story is visible everywhere. Talk of Amazon, Facebook, Google, IG, you'd find their ads everywhere.
Bare Anatomy: In the formation year 2019, revenue 1cr. In the year 2021, revenue 12cr says co-founders Vimal Bhola, Sifat Khurana, and Rohit Chawla. What was the driving force behind this success? Not the niche marketing with one or two hero products for all customers. Instead, they used the scientific way of using algorithms. This catered to each customer's needs. Influencer marketing and optimization were the driving force for their success story.
How do I start a D2C business?
No matter how successful it is, every business would have its own set of perks and challenges. But, certain pre-requisites should not go missing before you are ready to take off:
Make sure your plan is compact: It is important to be sure of the product you are selling yourself. Are you confident about it and believe in it? Are you ready to answer questions like who is your target audience? What are the paid tools you would need to target them? What are the strategies you have set for yourself?
Handling CRM data with efficacy: There is data all across the internet. While some would be of use to you for lead generation, rest would be redundant for you. You need to understand which data would be of use to you and which tool would be the most effective to work on this data.
Handling transactions: Are you setting up an average order value for your product? Do keep in mind the shipping costs and RTO charges that might be applicable. Not only that, but you also need to keep in mind the packaging charge or an easy refund process. An easy refund and RTO process is a must-have thing for any startup as this gives consumers a trust factor. Do have your business bank account ready.
Taking a brand first approach: You need to know for sure what is your brand purpose. Have answers ready for the purpose behind your brand's existence and the values of your brand. It is the brand value that would make a difference to your business online, so it should always be "brand first". Be it your product videos or engagement videos, details of your brand value should be visible.
Innovation: On day today, there is hardly any industry that has got a monopoly in the business world. Keep finding new ideas that would engage customers and provide a great experience. Have influencers as your marketers.
Providing the best customer experience: Customers are the key. Wowing customers in every facet is hence crucial. Make sure you are available everywhere. Be available on different social media platforms (Facebook, IG, Google ads, YouTube, Emailers). Also, be available via live support (calls/chats/emails).
Analyze, test, and apply: A child first learns to crawl, then walk and then run. A business is our child too, hence here too we should follow the same process. Do not rush to see it yield results. Take baby steps, analyze the outcome, calculate the gains or the losses, test again and execute.
We may conclude, that if founders follow the above steps and have patience, they will see success.
The above-mentioned checklists would stand true for kickstarting your business. But, it could be both a D2C or a B2C one. Hence, understanding the basic difference between the two is important.
B2C:
Business-to-consumer (full form)
Production /Procurement- Advertising – Distributor- Wholesaler- Retailer- Consumer (stages involved)
Lower Operational Cost, Gaining Competitive Edge, Retailer Relationship (primary goal)
No access to customer data or buyer journey (customer data)
Longer sales cycle depending on the product (sales cycle)
Consumables, Non-personalized items (beneficial for)
Vs.
D2C:
Direct-to-consumer (full form)
Manufacturing-Branding- Marketing- Website/ Sales Channel- Sales- Fulfilment- Customer Service (stages involved)
Problem Solving, Lower Pricing, Brand Value Building (primary goal)
Valuable customer insights like buying habits and spending patterns (customer data)
Shorter sales cycle (sales cycle)
Personalized items and high-value goods (beneficial for)
Of the two we can without any disagreement conclude that D2C brands have got their own share of benefits. More the return, more would be the lucrative outcome.
To mention a few of the benefits would be noteworthy:
Lower price means higher profit: Direct-to-consumer services sell products at a lesser cost. Hence they have a higher net margin. They do not go through the entire production-wholesaler-retailer marketing process.
Control over the brand vision: They have a clear picture of their sales channels. They know the exact requirements to increase sales.
360-degree view of the customer data: These services collect important consumer data. These include contact information, demographics, purchasing habits, and patterns of their patrons. This data acts as a catalyst for companies to cross-sell, upsell and resell products. They can target both existing customer base as well as a new market.
Better customer experience, boost brand loyalty: d2c companies can provide a personalized facility. Be it returns, repairs, or other inquiries, these convince customers to stay loyal to the brand.
Run exciting offers: Running personalized promotional offers on basis of competition and priority.
When a D2C brand has benefits, it is important to market it well to yield the best results. We now know what are the things we should keep in mind starting a business, and we also know the benefits of it. But for marketers, it is also important to understand how we market it.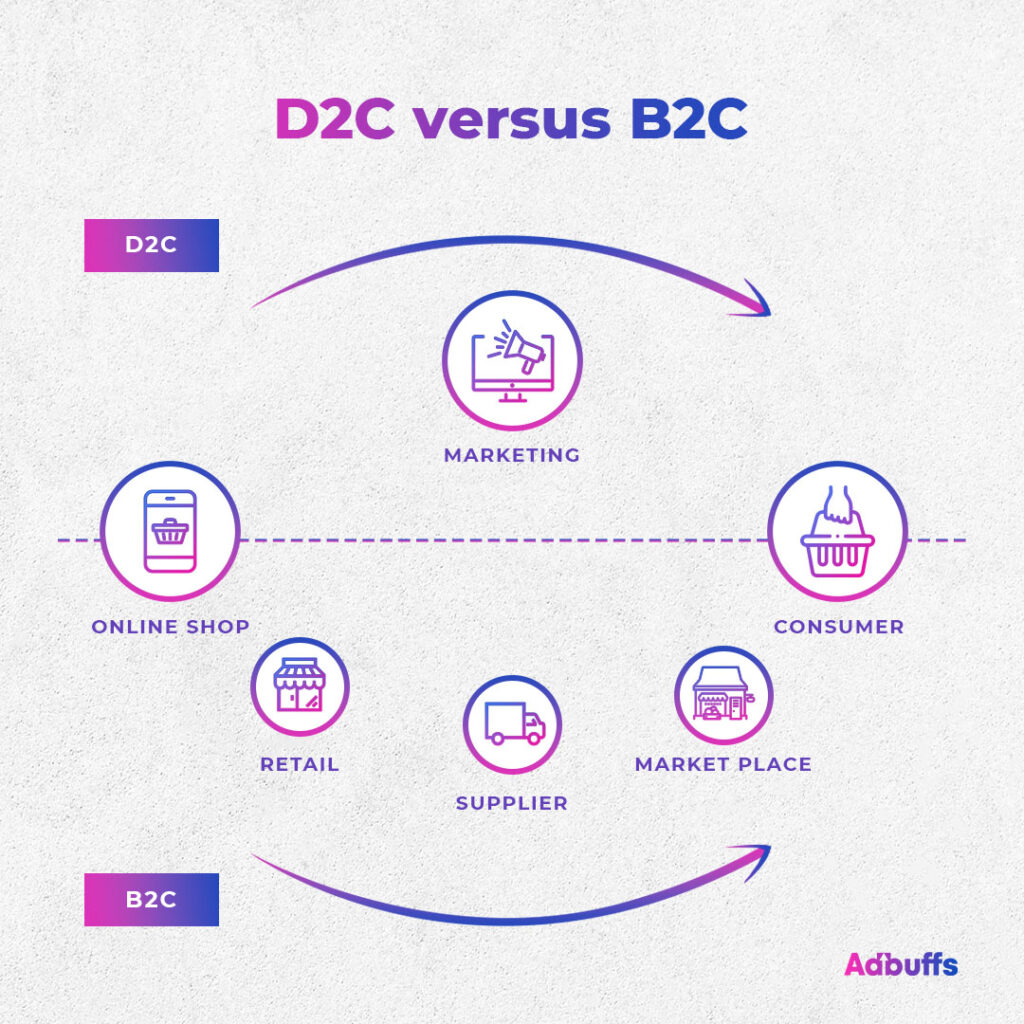 Marketing a D2C brand:
You can turn your audience into customers if you have a good marketing strategy. Your marketing strategy needs to include:
Impression of your audience: Your product or service interests which section of people. Where do they come from? The customer demographics are of the most importance. If you know details like marital status. income and hobbies you can create the ideal ad copy and creatives. Geography will help you customize advertising to specific markets. For example, suppose you sell home fixtures. For customers staying in large cities, you would focus to sell the greatest usage of small spaces. Against that, for peripheral customers, you'd focus on selling home decors. Now you know who your customers are and where they live. It is now important to understand how much time they spend online and their web-behavior. You can then place your content and ads in the right platforms and at the right time. When you track you would understand which pages your customers spend the most time on. You would also understand how they interact with your website. Now place yourself in their shoes. Figure out what your customer desires and make the most of how to fill the gap with your business.
Overview of your competitors: SWOT analysis could be of help. Once you are in the market, you'd identify opportunities and threats. You can then refine your messaging. Analyzing your competitors' strengths & weaknesses can help you strengthen your marketing strategies. But do not only focus on your direct competitors. You'll have indirect competitors too who offer similar services and products. These competitors serve different needs or purposes and hence target different audiences. You need to know- the past messaging style and how the style has changed. This would give you an idea of how to filter out interested customers. Use the incognito mode for browsing through their site, this would give you a fresh view of their content. Search engine results are also important. Where do they appear in search results? What keywords are being used to get there? You can also see how they're describing themselves in their meta description. Posts on their social media pages provide a gold mine of information. You would get a fair idea of what is working for them and what is not. Use a free email account and check out their content. This helps you track what your competitors are doing and how good they are at following up.
Your positioning on basis of your differentiators and value proposition. You should be able to answer some questions when you position a product or service. These include, what place it occupies in the marketplace and what rank it holds. Also, you should be able to answer what do you want your customers' attitudes to be about your offerings. Finally, what outcomes do you want?
Your messaging: You need to define your messaging style (voice and tone). Figure out where will you communicate the message.
Set your marketing goals and objectives. What do you aim to achieve with your marketing strategy? Is it to make your audience more aware of your company? To get as many new customers as possible? To grow the lifetime value of your existing customers? Once you know what you want to do, you can focus on how to get there. That's when you'll decide how you'll measure success via metrics, and track those metrics on a regular basis. This will help you determine the health of your marketing strategy. Here are some sample metrics to look at based on the tactics you use:
Tactics: Weekly blogging, Email marketing, Display advertising
Metrics: Organic traffic growth MOM, time on page, social shares
CTR, Unsubscribes, Conversion
New site visitors, conversions, CPA, ROI
Your marketing budget: Consider all the linked costs. These include costs for paid ads, hiring costs, marketing tools, website maintenance, etcetra. Break down all the requirements for establishing your sales funnel. Your sales funnel, i.e. awareness, consideration, decision and action are important components. They are the determining factor for where you are going to spend your money. Set your budget on basis of the goal you want to achieve. Whether it is earning more sales/more brand awareness, or more leads. An essential component of preparing a 2022 marketing budget is choosing your strategies. You should have an idea of which strategies seem to be the best fit for your business. PPC, SEO, social media marketing, and email marketing are some of the best strategies. Finally, you should consider the manpower cost, whether via in-house, freelancers, or agencies.
It's not always a Lala land. D2C brands have got their own set of challenges, which might act as a barrier:
Product differentiation: In another 5 years 40% of the consumers would be dependent on d2c. But you need to build a unique selling point and portray it via your messages. It is crucial. Otherwise, almost every second brand offers the same things and to look-alike groups.
Altering customer habits: Online shopping most attracts the Millenials. This means they're switching brands at an unusual rate! Gen Z is most likely to continue switching brands. The manner in which we target audiences has changed, courtesy of Google sync. They might have stumbled upon your blog post on your product while using their laptop at work. Your social media advertisements can but target them on their phones. They can then continue to buy from your IG store.
Are you prepared to wow your customer through this journey?
Growth challenges- Facebook Advertisement costs have almost doubled Y-o-Y 2018-to 2019. Social media platforms are getting crowded. Organic growth remains a challenge.
Technical infrastructure: You need to think of the infrastructure, means & modalities, etcetra. Within 24% of the first contact, 54% of the users expect to get a personalized discount. 26% of the users want higher security. 22% of the users want same-day delivery.
There will be obstacles. There will be doubters. There will be mistakes. But with hard work, there are no limits. One can overcome the challenges if followed the below:
What is your unique selling point? How can you build a community that would resonate with your messaging?
Use new-age technologies (AR, VR, IoT, etc) to make your customer experience more seamless.
Think, what is the one thing you do that those in your niche don't.
You don't have to have a high budget to pamper your customer. Do simple things. Address each customer's comments from your social media handle, have feedback, run surveys.
Think about which APIs bring flexibility to front-end operations.
The D2C sector is booming, but is it workable and long-lasting?
The digital era has helped companies to connect with customers without any middleman.
But the question of the model's viability for different sectors still remains. For a beauty brand it might be easy to operate in a d2c model, but what about an industry that deals with dealerships? How will new d2c brands fight the traditional retailer business that have a big funding? With no monopoly, would they get lost in the crowd? Questions are many, answers to which only time would say.
FAQ
What is CRM?
Customer relationship management (CRM) is a technology for managing a
company's relationships and interactions with all of its customers and potential
customers. The goal is simple: Improve business relationships. A CRM system helps
companies stay connected to customers, streamline processes, and improve
profitability.
What is SWOT analysis?
SWOT is an acronym for Strengths, Weaknesses, Opportunities and Threats. By using these four areas to identify an organization's characteristics and climate, a SWOT Analysis offers a high-level evaluation of your company's pros and cons. The goal of a SWOT Analysis is to help an organization identify strategies for success.
What is Email marketing?
Email marketing is the digital marketing practice of communicating with leads and customers with email. Common email-based marketing messages include email newsletters, promotional campaigns, and event announcements. Email marketing typically has a significantly higher ROI than many other marketing channels (like social media).
What are display ads?
Display advertising is the process of promoting a product or service through visual ads on websites, social media channels, and digital platforms. Many advertisers use display ads to encourage potential customers to take a specific action, like requesting a quote or purchasing a product. The most common visuals used to create display advertisements include photos, graphics, videos, and animations. Display ads may also appear as banner or text advertisements on third-party websites.
What is CTR?
CTR or 'click-through rate' helps understand how well ads or keywords are performing. CTR can be calculated by dividing the number of clicks the ad receives by the number of times the ad is shown.
What is CPA?
'Cost-per-action' or 'cost-per-acquisition' is an advertising measurement model referring to a specific action, for example, a sale or a click. It is calculated as the cost divided by the number of actions being measured. 
What is ROI?
ROI or 'return-on-investment' is a formula to evaluate how well a particular investment has performed compared to the others.